KB POWERBANDS SHOULDER PROGRESSION |
WORKOUT NOW
The KB Powerbands Shoulder Progression is designed to keep throwing athletes' shoulders healthy during training, strengthening the rotator cuff and shoulder girdle for faster recovery time and improved mobility. It's important for all throwing athletes to prioritize shoulder health throughout their career. Use the Shoulder Progression before throwing or during offseason conditioning for a strong functional throwing arm. Complete each exercise with focus and intensity to enhance shoulder stability and control. Perform one set on throwing days as a warm-up or 3-4 sets on conditioning days.
Additionally, the KB Powerbands Shoulder Progression can help anyone live pain-free by strengthening the rotator cuff in the shoulder. By incorporating these exercises into your routine, you can improve your shoulder health and prevent injuries.
SHOULDER PROGRESSION WORKOUT BREAKDOWN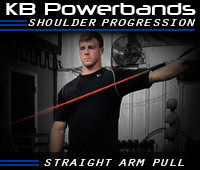 STRAIGHT ARM PULLS
10 REPS
STRAIGHT ARM
WORK IN FRONT
3 SEC DECELERATIONS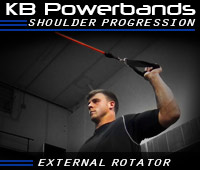 EXTERNAL ROTATOR
10 REPS
ARM LEVEL WITH SHOULDER
3 SEC DECELERATIONS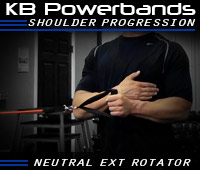 NEUTRAL EXT ROTATOR
10 REPS
HAND UNDER ARM
WORK AT 90 DEGREES
3 SEC DECELERATIONS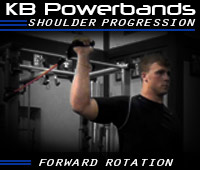 FORWARD ROTATION
10 REPS
WORK AT 90 DEGREES
SPLIT LEGS
3 SEC DECELERATIONS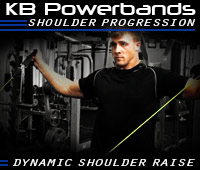 DYNAMIC SHOULDER RAISE
10 REPS
LOW MOUNT
SPLIT LEGS
3 SEC DECELERATIONS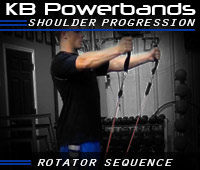 ROTATOR SEQUENCE
10 REPS
THUMBS UP
PALMS DOWN TO SIDE
EMPTY SOUPS
3 SEC DECELERATIONS
KEYS TO
SUCCESS
To see the most benefits it is essential that each athlete focus on three second count decelerations on every exercise. Most throwing injuries occur during the slow down phase of throwing. By slowing decelerating the arm with resistance these muscle will become stronger and the joint will become more stable throughout explosive movements. Also be conscious of arm slot during every exercise. It is important to squeeze your shoulder blades, staying tall throughout the core, and dynamically rotate through the throwing arm slot. The shoulder stabilization muscles must be trained in the same way competition requires them to perform. FORM IS EVERYTHING. Get started today using the KB Powerbands Shoulder Progression and build a strong throwing arm.
Videos You May Also Like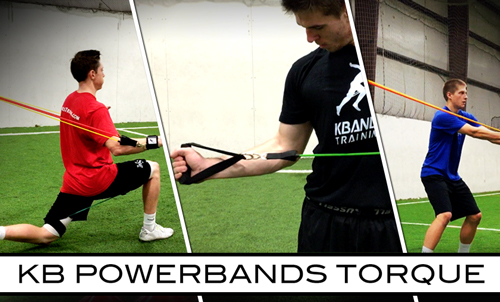 Torque
Rotational movement is essential to sports performance. The Torque Digital Trainer will increase your ability to powerfully rotate. With resisted KB Powerbands exercises you will optimize explosiveness, strength, and rotational power.
Start Training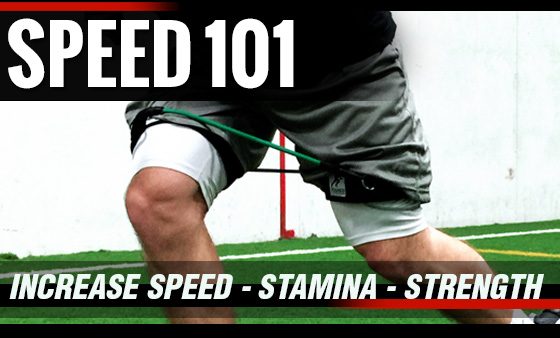 Speed 101
Speed101 is all about enhancing athlete's speed and explosiveness. Build hip flexor strength and quickness during each Speed101 training session. Get started training with Trevor Theismann and Speed101.
Start Training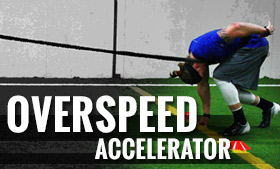 Overspeed Accelerator
Enhance your speed with assisted sprint training with the Overspeed Accelerator Training Program. Overspeed training is a unique training style which allows athletes to increase stride frequency quickly moving through each phase of sprint acceleration.
Start Training