KBANDS BEGINNER OUTDOOR FX | WORKOUT NOW
KBANDS BEGINNER OUTDOOR FX is going to be a great outdoor workout for you to build a foundation of strength and endurance throughout your core, upper and lower body. Every rep will increase your heart rate and challenge your strength to optimize your results. The video below will maximize every set breaking down the complete exercise giving you a reps and sets breakdown as well as technique tips to ensure a great workout. Before completing KBANDS BEGINNER OUTDOOR FX it is important that you work through a warm up. (Warm Up: Push Ups, Body Squats, Walking Lunges, Jumping Jacks, Crunches)
After increasing your strength and endurance move to the next level of training with ADVANCED OUTDOOR FX.
ADVANCED OUTDOOR FX TRAINING WORKOUT BREAKDOWN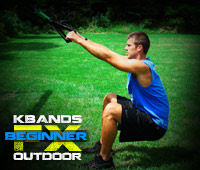 SQUAT VARIATIONS
SQUATS - 10 REPS
POWER SQUATS - 10 REPS
DUO RDL - 10 REPS
3 SETS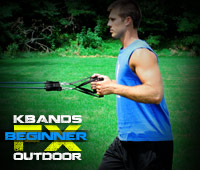 BACK ROWS
DUO ROWS - 10 REPS
POWERBANDS ROWS - 5 X 5 X 3
4 SETS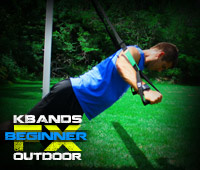 FLYS AND PUSH UPS
HUGS - 12 REPS
SQUEEZE PUSH - 12 REPS
3 SETS
REVERSE LUNGE AND ARM PULL
REVERSE LUNGE - 12 REPS
ARM PULL - 12 REPS
4 SETS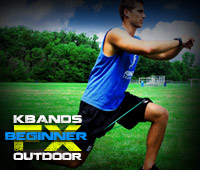 TRI EXT AND WIDE CURL
TRICEP EXT - 10 REPS
WIDE CURL - 10 REPS
2-5 SETS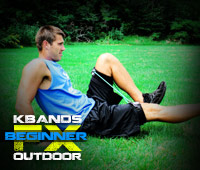 ABS SEQUENCE
SEATED BICYCLE
LEG RAISES
TOE TOUCHES
20-10-10 3 SETS
KEYS TO SUCCESS
As with any workout it is essential that you warm up before working out. A warm up creates increased blood flow throughout the body that will help prevent injuries. Also before working out be sure to spend some time watching this video to ensure you have the proper form and technique during every exercise. Form is essential to maximize your results and works the proper muscle groups need to increase muscle mass and decrease fat. Push yourself through each set leaving no more than one to one and a half minutes of rest between each set. Good luck. Leave me a comment below if you have any questions.