KBANDS ADVANCED OUTDOOR FX | WORKOUT NOW
It's time to take your outdoor training to the next level with ADVANCED OUTDOOR FX. Complete this workout in its entirety following the reps, sets and rest durations described in both the video as well as the workout breakdown listed below. Throughout the video you will receive descriptive explanations of each exercise to help you maintain good technique optimizing your results. Before diving into the workout it is important to complete a short warm up to get the blood flowing. (Warm Up: Push Ups, Squat Jumps, Reverse Lunges, Jogging, Run in Place, Pull Ups)
Complete ADVANCED OUTDOOR FX 2-4 times a week for best results. Also consider adding challenge workouts to your workout regimen to add variety and intensity to your outdoor workout training.
ADVANCED OUTDOOR FX TRAINING WORKOUT BREAKDOWN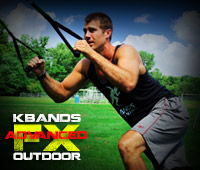 SPEED SKATERS
(5-5) SINGLES
30 SKATERS
SUPERSET
HUGS AND FACEPULLS
FACE PULL 12 REPS
HUGS 12 REPS
3 SUPERSETS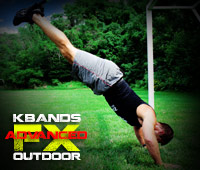 INVERTED PUSH UP
3-4 RESISTED STARTS
4 UN-RESISTED 40'S
2 MIN REST BETWEEN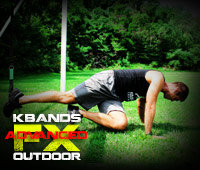 DUO CORE SEQUENCE
PIKES - 12 REPS
PUSH UP KNEE - 12 REPS
KICK OUT CROSS KNEE - 12 REPS
3 SETS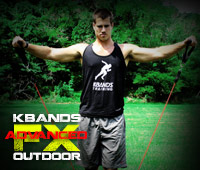 CURLS - EXT - LATERAL RAISE
CURLS - 10 REPS
TRICEP EXT - 10 REPS
LATERAL RAISE - 10 REPS
3 SETS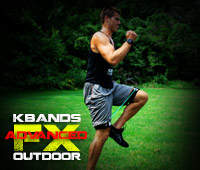 KBANDS CARDIO
RUNNING RDL 1 MIN
4 SETS
KNEE UPS - 10 REPS
SPLIT SQUATS - 10 REPS
3 SETS
KEYS TO SUCCESS
Outdoor workouts can be a great addition to your training. To ensure the best results be sure to complete a warm up before your training. The Advanced Outdoor FX Workout Video is always a must when getting ready to begin training. With each exercise described in detain you will know exactly how to complete each exercise and optimize your training. Also with every outdoor workout you should be sure to bring water and a towel for your workout.